His name may ring a bell or not, but he's certainly one of the most influent artists of the era!
Anish Kapoor was born in 1954, in Mumbai, India. His family is originally from Irak, but they moved to India during Anish's early years, being part of the jewish community of Mumbai. Like many artists these days, Anish started studying something he didn't really like, in this case Electrical Engineering. He had trouble with all the mathematics involved and ended quitting afte
r
6 months
. He then moved to Israel and decided that he wanted to become an artist. In 1973, he left Israel for England, where he studied Fine Arts in the Hornsey College of Art and in the Chelsea School of Art and Design. After his studied he moved to London and has been living and working in the city from the 1970's.
He has won many prizes such as the Turner award and he even received the knighthood in 2013 for his services to visual arts.
What I wanted to show you is his works: many may find them too over the top, or lacking meaning, but I find them outstanding from an aesthetic point of view and very deep in meaning.
His early works are pretty simple: geomtric forms, with very bright colours.
1000 Names (1979-1980)
"While making the pigment pieces, it occurred to me that they all form themselves out of each other. So I decided to give them a generic title, A Thousand Names, implying infinity, a thousand being a symbolic number. The powder works sat on the floor or projected from the wall. The powder on the floor defines the surface of the floor and the objects appear to be partially submerged, like icebergs. That seems to fit inside the idea of something being partially there."
To Reflect an Intimate Part of the Red (1981)
He then started explorimg surfaces that evoked the "void". He states that these sculptures are a way of creating something that in fact represents nothing. It is up to viewer to fill the empty space before him, and well, get lost into the void!
Void (1989)
Here's project called "No place" that fits with the idea of void
He uses a special painting technique that allows him to create that feeling of an "infinite void".
After his obsession with void, Anish Kapoor started working on stainless steel. One of his most well-known pieces fits this period:
It is placed in the Millenium Park in Chicago.
Sky mirror (2001)
He has declared to want to turn the world upside down!
He has also used red wax to create his sculptures, most of the time using it to evoke flesh and blood...
Imagine blue (2003)
My Red Homeland (2003)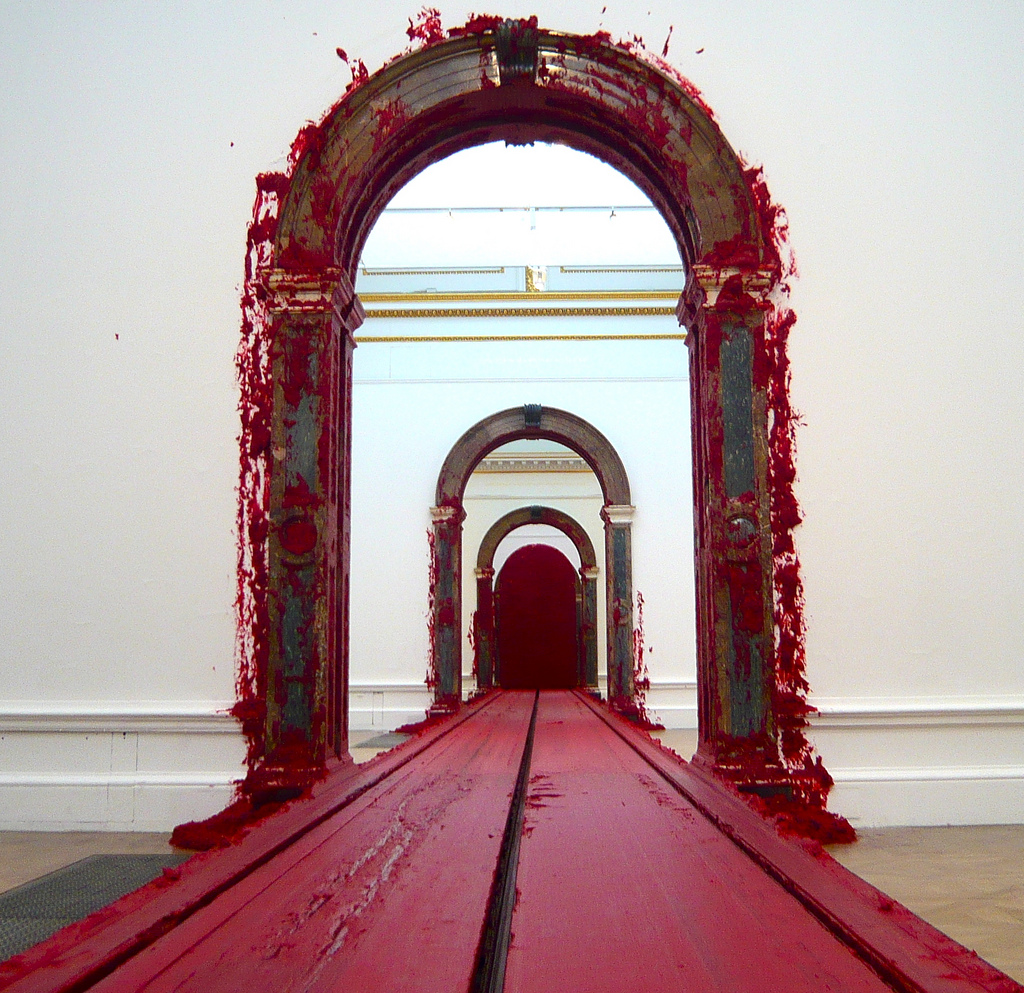 Rooms (2005)
As you can see, he is a very very prolific artist, working with many types of techniques that allow him to maginify his creating span. This is what makes him one of my favourite artists! He works on a theme, but he also evolves towards new meanings and techniques.
You might know this particular piece, which was presented in the Grand Palais of Paris, in 2011:
Leviathan (2011)
And here's what he's currently working on!
Ascension (2010)
Ascension
He posts regularly an album called "studio" in his website where he shows pictures of his studio, to give us a hint of what he's doing! Here's the link:
http://anishkapoor.com/915/Studio.html